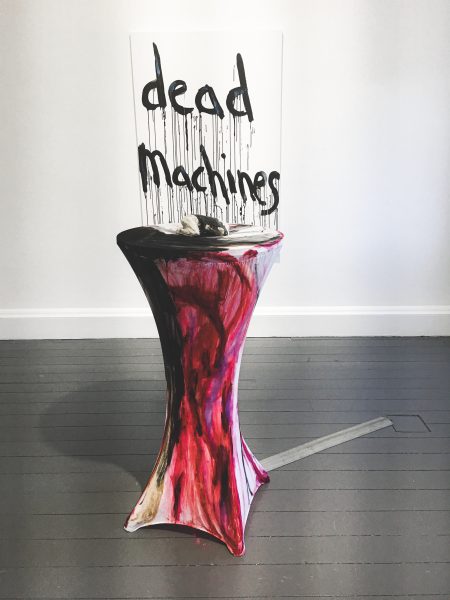 She bites her tender mind
Irish Museum of Modern Art
27 July – 10 November 2019
Review by Aidan Kelly Murphy
Kim Gordon first came to prominence in the mid-80s as a member of the noise band Sonic Youth – co-founded with her ex-husband Thurston Moore and active until 2011, when both the band and marriage dissolved. Since then Gordon has become a polymath: releasing music from several projects, embarking on an acting career, writing the acclaimed 'Girl in a Band' memoir on her years in Sonic Youth, and focusing on her visual art practice that took a backseat during her tenure with the band. It is this last category that sees us drawn to Dublin's Irish Museum of Modern Art (IMMA) to see Gordon's latest exhibition 'She bites her tender mind'.
The show represents a retrospective of sorts, with selected works gleaned from a number of series the artist has been producing over the last decade. All are homogenised in this exhibition under the umbrellas of aesthetics and gender, whilst a central role is played by the ancient Greek poet Sappho (c. 630 BC to c. 570 BC) – one of surviving phrases from her poetry provides its title. The only woman amongst an ancient group called the Nine Lyric Poets, she remains an important cultural icon beyond the reputations of her compatriots – the poet is a symbol of love between women and her home island of Lesbos is the etymology of Lesbian. The show's five titular words are separated into five single-word text pieces dispersed between the gallery's courtyard rooms – which are both more intimate in size and domestic in layout when compared to the other spaces in IMMA.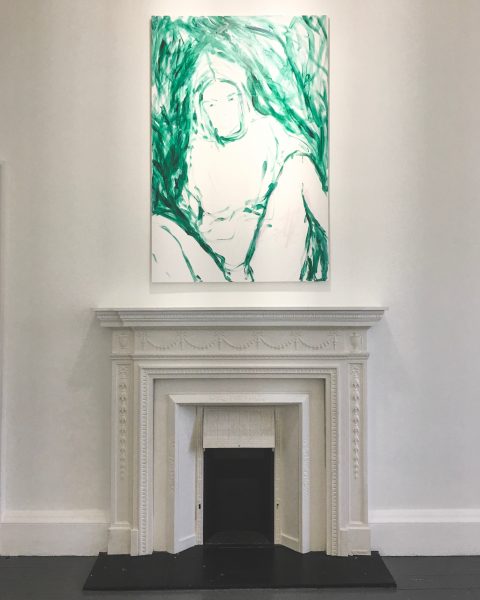 Kim Gordon, IMMA 2019
Website : https://imma.ie/whats-on/kim-gordon/
Credit : Courtesy of the writer
The exhibition builds through these four rooms, becoming looser and more diverse as you move through them. The first is built around two free-from expressive nude paintings; in the next a sculptural plinth, 'The Pitch 22' (2018) forms the centrepiece, whilst the third is dominated by 'Black Glitter Circle' (2008) – an autological work comprising a large circle made out of black glitter on the gallery floor that represents the 66" circumference of the artist's arms. The final, dark room contrasts the light and openness of the first three and hosts the work 'Proposal For A Dance' (2012) – a performance video featuring Gordon and Eleanor Erdman. Split across three channels, the piece sees the pair on stage in Rodarte dresses, screeching guitars being hurled around, played behind their heads and gyrated against with as much machismo image as the rock star highlighted. It is the most succinct articulation of the challenges raised by Gordon that face women in the visual arts and music industries.
Also included are works from Gordon's on-going 'Noise Paintings' series (2009), which feature the names of noise bands scrawled in black paint and dripping down the canvas. Here we see 'dead machines' (2019) as well as examples from her 'From The Boyfriend' works (2015) that make use of denim mini-skirts painted black and rotated. However, it is Gordon's on-going 'Airbnb Series' (2019) that forms the core theme of the show, resonating loudly in the exhibition space. In the four adjoining rooms we find three large ornate fireplaces, and whilst they are painted white so as to blend into the surroundings for most exhibitions, here Gordon utilises them incorporating them, and the domestic feel of the space, into her work; leading to an astute and successful comparison between the non-space of the gallery and the non-space of an Airbnb. It is always difficult to fully assess work whose intent is to manipulate and, at times, intentionally, remove aesthetic qualities. Gordon seems to aim for neutral and derivative art as she comments on the uniformity of these non-spaces, now becoming more prominent. There is also something jarring, almost uncomfortable, about the commentary on these spaces. In Dublin we face both a housing shortage and a pricing out of properties due to these types of spaces reducing supply and inflating rental costs, and while Gordon's work is critical it fails to deal a fatal blow to their existence. Instead they remain in-situ for the next visitor.
***
Originally published by this is tomorrow, view online here.
Main Image – Title : Dead Machines
Date(s) : 2019
Website : https://imma.ie/whats-on/kim-gordon/
Credit : Courtesy of the writer