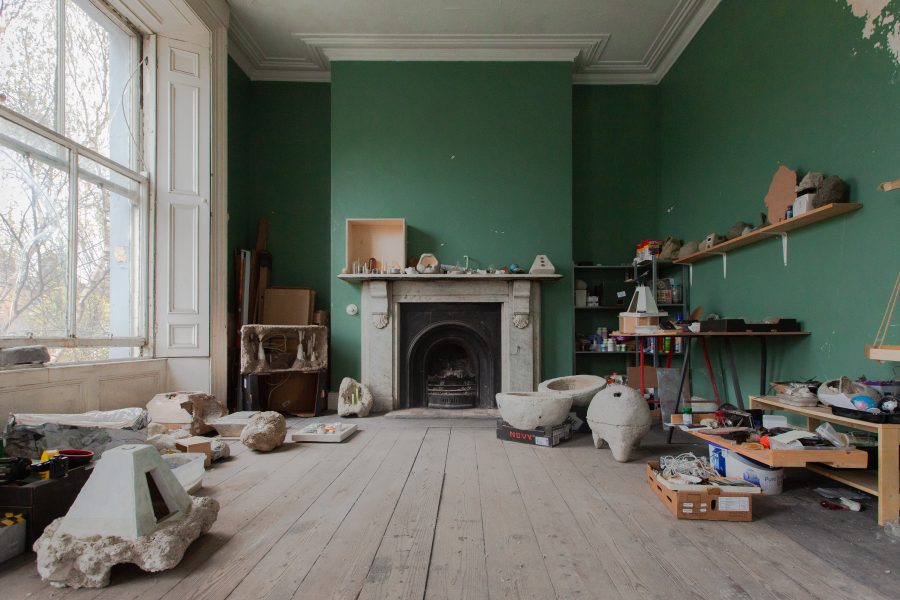 6 Seville Place
Aidan Kelly Murphy speaks to a group of artists who have used their own initiative to create a temporary studio space in North Inner-city Dublin.

In November 2017 the average price for a residential property in Ireland edged above the National Property Price Index's baseline for the first time since 2009, signifying that the bust had been replaced with a new property boom (1). While the growth during the Celtic Tiger years was based on a system of increased supply and demand, the current increase in prices has been driven by a reduction in supply. This strain has impacted all aspects of the property market and all kinds of people are now competing for places to live and work in the city. Unfortunately, the arts community has not been spared from this struggle. Studios and galleries that moved into vacant buildings to act as custodians during the recession have begun to close, with buildings either being converted or demolished to make way for commercial units, hotels, apartments and student accommodation.

The regeneration of the property market has directly resulted in a degeneration of studio spaces for artists, with workspaces like Broadstone Studios and New Art Studio closing to make way for commercial ventures. This has yet again become a critical issue within the arts community and some artists are taking matters into their own hands, by exploring options to create their own studio spaces. I talked to a group of five artists – namely Conall Downs, Andreas Kindler von Knobloch, Áine McBride, Blaine O'Donnell and Tanad Williams – who have established a new workspace for themselves in a disused house in North inner-city Dublin.

Aidan Kelly Murphy: What is the backstory of 6 Seville Place?

6 Seville Place: In 2010 a couple of us moved in a few doors down the street. At that stage No. 6 Seville Place property was empty. This changed in 2014 when squatters moved in and made it their home, but they were later evicted after legal proceedings were completed. The property then fell into a state of disrepair, before eventually being blocked off, with corrugated iron on the windows and plywood over the door. In 2016 two of us applied for a Project Studio in Temple Bar Gallery + Studios and part of our application was to identify a new artist studio/production space in Dublin. After leaving TBG+S we began looking for that space. It was during this time that it occurred to us to find out what the situation was with No. 6. We found the owner's details online and contacted him. We were acutely aware of the recent history of the building and so asked if he would be interested in letting us use the space, in exchange for repairs to the building. We assumed very little would come from this correspondence, but the attempt paid off, when two days later he emailed saying that he would be interested in discussing our proposition further.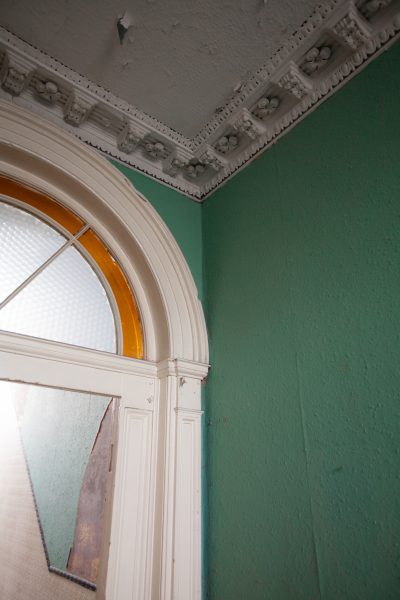 AKM: How important has it been to establish a working relationship with the owner based on trust?

6SP: Extremely important. We made sure to wait until we had his permission before entering the building. We didn't start clearing out the space until the basic agreement – of using the property for a minimum of a year, in exchange for being caretakers of the building – had been established and formalised as a written contract. As a first act of goodwill, we spent some time reconstructing the door, which had been destroyed during the eviction process, and we repaired the old sash windows. We also met the builder and architect who are currently working on the building's renovation, as well as the neighbours who've helped with clearing the front garden and pruning the bushes in return for shelves and DIY tips. Some of the neighbours have even inquired as to whether we could fix their sash windows as well. It has been remarkable how friendly and good-willed everyone has been.
AKM: How did the five of you come together?

6SP: That was the easy part! Andreas, Blaine and Conall live a few doors down and we have used their back garden as a workshop for the past number of years. Tanad had been working in this workshop and was searching for a vacant building at the time. Whilst Áine was one of the people we spoke to about the property before moving in, and she was also looking for a studio.

AKM: Have you begun to see tangible benefits in your own working methodologies?
6SP: We have a very high functioning space and that's invaluable. We have produced in the region of eight shows from Seville Place over the last year, including a group show in the space itself. Work being produced in the property is also for theatre shows, photobook launches, bespoke crates for artworks and artworks for specific artists. Slowly people have begun to drop by more frequently. We're working on the last few rooms and trying to get the space suitable for potential visitors.

AKM: Do you think in Ireland we are reluctant to approach spaces with a view to converting them?

6SP: The project at No. 6 was never thought of as a conversion, but more of an in-between stage. We think artists should be reluctant to engage in these kinds of precarious situations, where the energy needed to create a stable working environment is balanced quite delicately with the amount of time you can expect to be able to work there. On the other hand, landowners in Ireland are too short-sighted – that goes for developers and the building trade too. Houses here are built with a visible short-termism; they no longer think in terms of generations but regulations. It's not a coincidence that we are in a house that was built over 150 years ago.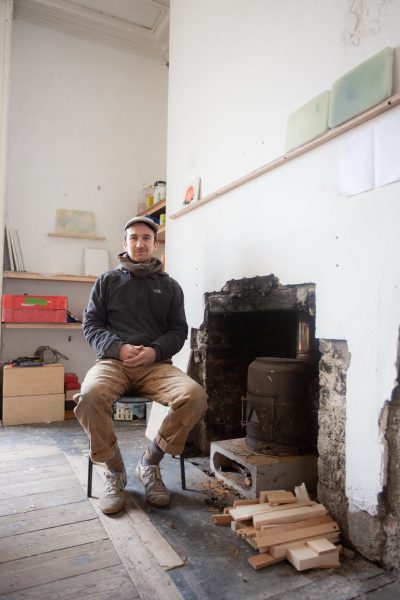 AKM: What support structures do you think need to be developed to encourage more people to explore the route you have taken?

6SP: This approach was unique to our situation, and not something we would encourage as a widespread or long-term solution for artists. No. 6 has only been possible because some of us live a few doors down, allowing us access to power and bathroom facilities. The landlord's good faith and trust has also been quite unique throughout the process. Even with all of this, our situation in the house still feels precarious and we know that it is only a temporary solution. We would say to others that there is no harm in enquiring into empty buildings. Websites like the Property Registration Authority (prai.ie) are useful if you spot a vacant place, as you can find details of the owner. We feel there should be a greater stigma attached to leaving houses empty; objects need care and houses are no different.

In our case the amount of time we have put into the property has a direct correlation with the rent we would have paid for studio spaces, with the difference being that we are always here and can spend more time in the studio. The Arts Council could support and back independent artists or groups in taking on properties – whatever happened to Dublin City Council's Vacant Spaces Initiative? Recent graduates should expect support from their colleges too, and ask these institutions to vouch for them, until they have a good enough track record to set up spaces themselves.

If things continue this way over the next few years, most, if not all of us, will have moved out of Dublin or emigrated; and for a small island whose purported export is culture, we're not doing an awful lot to keep musicians, writers, actors and artists living and working in our capital city. Our year in No. 6 is almost up and soon we will have to start thinking about the next workspace.

Aidan Kelly Murphy is a writer and photographer based in Dublin, the Arts Editor for The Thin Air and Associate Editor of CIRCA Art Magazine.

The artists at 6 Seville Place are: Conall Downs, Andreas Kindler von Knobloch, Áine McBride, Blaine O'Donnell and Tanad Williams.
All images courtesy of the writer.
Notes:

(1) Based on figures from the Central Statistics Office's National Property Price Index – see cso.ie.

***
Originally published in VAI Ireland News Sheet May/June 2019