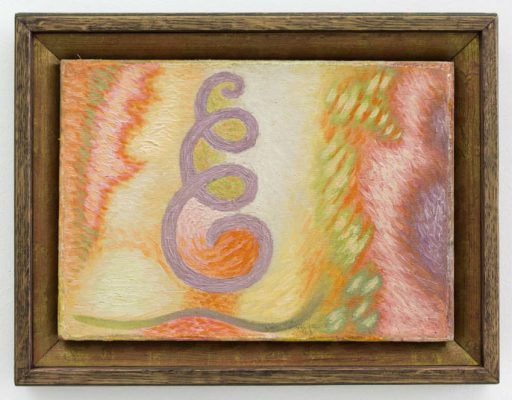 The two rooms of the Douglas Hyde, even when containing separate shows by radically different artists, have always complimented and enhanced the work hanging in each individual space. This harmony is usually achieved through a common thread that links both artists, be it nationality, style, era etc. On first entrance this usually tangible link is not immediately recognisable for Charchoune and James' work. On closer inspection of the accompanying literature for Charchoune's work this link becomes more apparent. Within these texts you encounter a number of essays that Merlin James has written about the Paris based painter of Russian extraction – including a wonderfully imagined piece documenting a walk through Parisian streets and old haunts of Charchoune.
Close to 50 paintings adorn the walls of the gallery's main room. These pieces span over half a century and serve to highlight Charchoune's penchant for using varying pictorial styles in his work. It is perhaps these radically diverse and contrasting approaches that have prevented the painter from entering the pantheon of the greats like so many of his contemporaries from the period, who threw themselves at a single movement. While the question of why Charchoune is not as highly regarded does ring out loudly from this show, it does not overshadow it. The accompanying literary pieces serve to generate an excitement that is fulfilled within the walls of the gallery. They also provide an in-depth historical context of how the work was created and came to be in its current form – Charchoune was an advocate of cutting up his paintings and presenting the parts as individual works. There is an intimacy in the show that is not always present in such a large retrospective looks at an artist's work. As you move around the room you can see how Charchoune's work touched on elements of Cubism, Dadaism and Purism, while never fully emerging themselves in a single genre. Always one for experimentation, on display is a drip painting from 1930's – a full decade before Jackson Pollock rose to fame with the abstract style. The works have been laid out carefully to avoid becoming too cyclical and, while containing such a large number of works, the show never feels too crowded.
As you move into Gallery 2 you encounter James' series Meeting at the Building, named after the Leadbelly song of the same name. The work comprises of three paintings and numerous miniature buildings constructed out of the off-cuts from James' frames and found materials from his studio floor. The models are presented in elongated knee high box cabinets. The physical link between James' creating these pieces through recycling off-cuts and Charchoune practice of dismantling his works to create new pieces reverberates as you find yourself crouched down and inspecting each miniature. The presence of the buildings in James' larger pieces anchors Meeting at the Building and serves to highlight James' process as he formulated these works. This process of experimentation to final piece echoes the Charchoune show in Gallery 1.
While this exhibition was never likely to settle the debate of where Charchoune should lie in greats of 20th Century painting it has certainly, four decades after his death, further the discussion – and maybe that was its ultimate goal.
***
Originally published on Le Cool Dublin.
You can read an archive of my Le Cool work here.