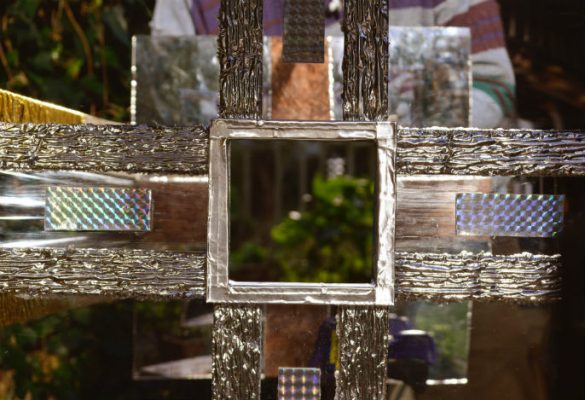 Eight Gallery on Dawson Street has begun 2016 in the same rich vein of form that it finished 2015 with as it hosts another strong solo exhibition by an emerging artist, this time it's David Lunney and Things made for drawing.
Lunney has been very active of late with a show in The Lab on Foley Street at the tail end of 2015. That exhibition consisted of documentary images of sculptures that Lunney had placed in the mountainous surroundings of Glencree, Co. Wicklow. While photography was the medium of choice for that show, presented here are six drawings and two sculptures. A hybrid between an easel come workbench and a reflective tunnel, the wooden and mirror based apparatuses were created by Lunney and placed in situ within the Dublin mountains. There they were then revisited over time as Lunney documented the almost kaleidoscope like views cast within his sculptures. The resulting six drawings, three per sculpture, are presented in Lunney's signature hand-crafted pattern frames – themselves a thing of beauty.
The symbiotic relationship of the sculptures and drawings is highlighted and enhanced by their inclusion together. The sculptures reveal the modus operandi of the drawings and frees the viewer to explore the 'why' rather than the 'how' of their creation – though the 'how' is still a fascinating endeavour. The presence of the drawings helps ground the context of the sculptures and provided a rare overview of the start to finish process of an artist. While there may be a simplicity with the core of idea of Lunney's work, hinted at with the title Things made for drawing, there is a sophistication and excellence to be greatly admired in the output.
***
Originally published on Le Cool Dublin.
You can read an archive of my Le Cool work he

r

e.