Aidan Kelly Murphy interviews Eoin O'Dowd about Dublin's former Eight Gallery
An exoskeleton of scaffolding and white plastic surrounds number 8 Dawson Street in Dublin, as it has done for many months now. Before the façade was completely obscured, a series of printed A4 pages signaled that Sol Art Gallery had moved to D'Olier Street. Any glimpse of this signage – and the upstairs room that once functioned as the setting for the Eight Gallery – are now gone. For over half a decade, that room provided a space for emerging artists to exhibit their work through an engaging and refreshing programme, becoming a vibrant part of the Irish art community.
As Ireland continues to emerge from the recession and vacant space once again becomes a premium across the city, the independent artistic spaces that once developed and thrived following the financial crash of 2008 have begun to disappear, either relocating to new homes or closing altogether. In this context, value seems to be increasingly attributed to these spaces via the buildings they occupy, rather than the intangible benefits they themselves provide to various communities. Notably Block T, Moxie Studios and Monster Truck have all been affected, and this trend also extends outside the capital, articulated prominently by the current uncertainty facing Ormston House in Limerick. For the majority of its incarnation, Eoin O'Dowd ran Eight Gallery. Following its closure in early 2018, I sat down with Eoin to discuss Eight's origins, programme and future plans.

Aidan Kelly Murphy: How did Eight Gallery start and how did you become involved?
Eoin O'Dowd: The gallery initially began in 2012 with Jenny Taylor, who began using this upstairs room in Sol Art Gallery to show work by recent graduates. I knew Jenny through my time in Monster Truck, and when she moved on from the project, I took up the reins. I did it because I wanted to stay busy and involved. Sol quickly picked up on the large numbers attending Eight events and recognised the demand for new creative spaces. And while the space was only available intermittently during this time, due to Sol's tentative programme, in the coming years they went to great lengths to accommodate Eight.

AKM: In terms of the gallery programme, was the goal to show as much work as possible by recent graduates?
EO'D: Yes, and this ethos became more solidified over time as I became more brazen in my role. A lot of recent graduates don't necessarily have the confidence to make the necessary applications, so the hope was to make it a place that was approachable and inclusive. I wanted to show work that had palpable momentum, not just an aesthetic that I enjoyed. Mainly I hoped to prevent, or at least halt, the stagnation that can happen in any scene; if supports are not available for graduate artists after they leave institutions, momentum can be lost. Eight Gallery looked to avert this by providing a platform for engaging with a commercial gallery space.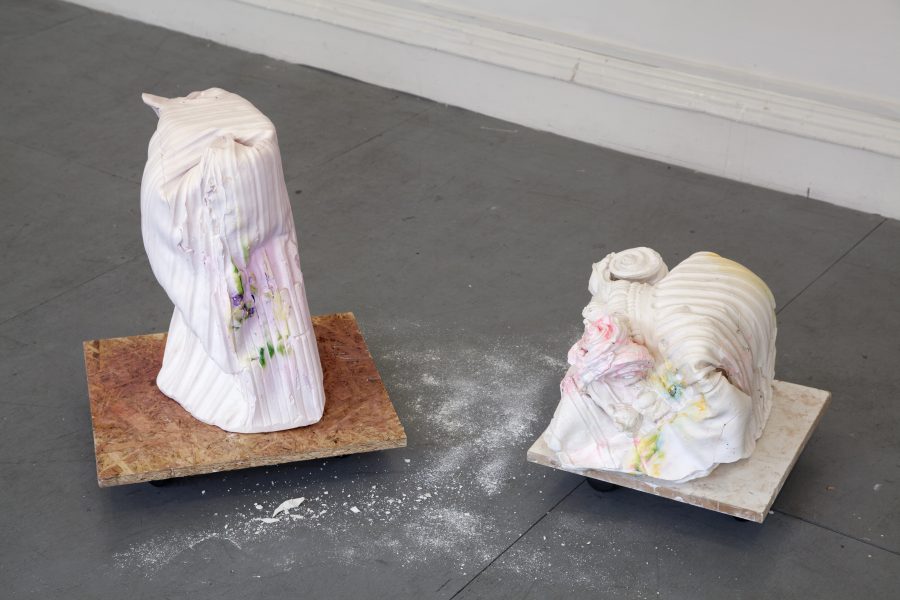 Doireann Ní Ghrioghair, 'Deflated Capital', installation view, Eight Gallery, 2016; courtesy of the artist
AKM: Did you find your role fluctuating between curating the work and being gallery facilitator for artists, in order to help shows achieve their potential?
EO'D: My responsibilities could change dramatically from exhibition to exhibition, depending on how comfortable each artist was in putting on their own show. It was about being the glue that could enter the cracks of the trifecta of the work, the space and the artist; I supported wherever possible and necessary. Some shows were selected with a curator already in place, like the group show in 2013, 'The Earth Rings in Your Ears', curated by Tracy Hanna, for which I was happy to be the facilitator. Over the years I accumulated experience, in terms of familiarity with how the space worked, how footfall in the gallery changed, the viewing and spatial relations and so on. This knowledge helped me to offer pragmatic, as well as curatorial, guidance. More often, I would engage in a discourse with the artist as the work developed in the space and this was the most rewarding aspect of the role for me.
AKM: With respect to the physical architecture, how did the space influence the exhibitions?
EO'D: Functionally, Eight was a white cube gallery, albeit one with many unique caveats. I tried to avoid selecting work on the premise of it highlighting the space, as the room was always subordinate to the works. There-in, I believe the gallery became a space with many platforms and functions, be it a temple of meditative reflection, a place of celebration, or even protest. In terms of the architecture and history of the space, Doireann Ní Ghrioghair utilised it like no one else could, in her 2016 show 'Deflated Capital', taking casts of the building's Georgian features to highlight its elegance, both permanent and temporal. In his first solo exhibition, 'The dust carried me into the watchful summer' in 2017, Bassam Al-Sabah embraced some of the structural qualities of the gallery, utilising the grand yet familial fireplace to create a space of vibrant introspection that stayed with the viewer, long after they'd left the gallery.
AKM: Looking back at the artists who showed at Eight, many are now established early to mid-career artists. Do you see this as justification for the programme?
EO'D: Absolutely. I don't doubt these artists would be where they are today regardless, but I hope that working with Eight had a positive contribution to their trajectory and encouraged their practice. Eleanor McCaughey, David Lunney and many others share and demonstrate common traits; there will never be a lack of skilled artists out there, but bravery and tenacity are rare, and Eight offered me the opportunity to experience this first-hand.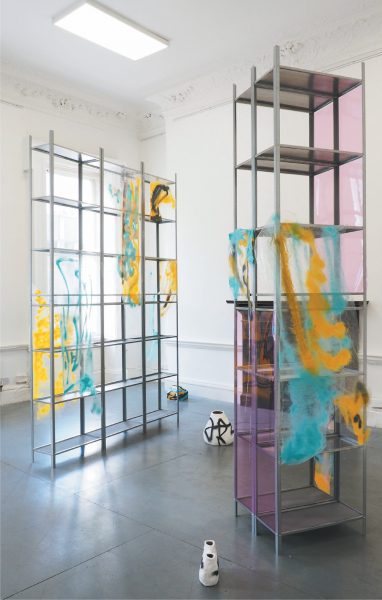 Liliane Puthod 'Symbol Symbol Symbol', installation view, Eight Gallery, October 2017; photograph by Lee Welch, courtesy of the artist
AKM: Now that Sol has moved to their new space on D'Olier Street, what does the future hold for Eight?
EO'D: Eight's time has passed. Eight only hosted two shows in Sol's new D'Olier Street venue, including Cliodhna Timoney's highly successful solo exhibition, 'Tatty Green Lampshade'. In one way, Eight was a specific upper-floor Georgian room at 8 Dawson Street, but in another way, it was simply a space to encourage the practice of making and doing. Galleries are wonderful, but art exists outside of them too. Though I was the only one running the show, Eight had many people coming and going, freely and generously lending their expertise – particularly Helen MacMahon, Davey Moor, Claire McCluskey and not least, Sol Art Gallery themselves, who, among others, clearly saw the greater good. Any space or scene that nourishes inclusivity and a supportive community could manifest Eight's intended legacy.
Aidan Kelly Murphy is a writer and photographer based in Dublin.
Eoin O'Dowd is an artist and independent curator currently based in Dublin.
Main Image – Bassam Al-Sabbah, 'The dust carried me into the watchful summer', installation view, Eight Gallery, September 2017; courtesy of the artist
***
Originally published in VAI Ireland News Sheet Jun/July 2018