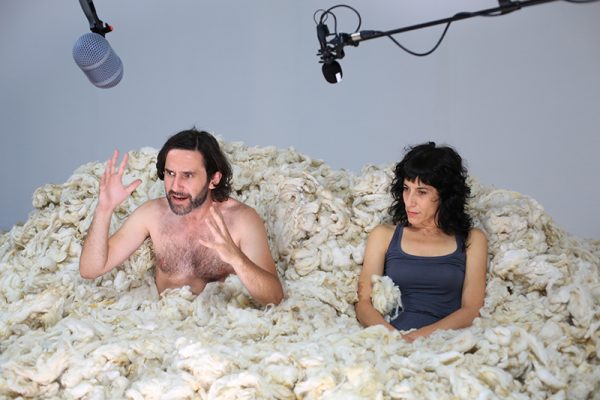 What's first grabs your attention about Orla Barry's latest show in Temple Bar Gallery + Studios is the wool. There's a lot of it, 300kg to be precise, and it takes centre stage on the gallery floor, hemmed in by large fabric screens descending from the ceiling. Breaking Rainbows initially began its life as a theatrical performance, with actors Derek Devine and Einat Tuchman taking part in limited run during the Dublin Theatre Festival. A recording of this performance is now projected on the gallery's back wall, with the wool methapmophasing it's purpose from the performance stage to a sculpture in front of the projection. Barry herself lives a dual life as both an artist and a shepherd, with a farm in rural Wexford. Breaking Rainbows sees a balance between these two lives as tales of trips to farmer's markets and successful sheep river rescues are interwoven with hard hitting commentary pieces on the plight of the earth as global warming continues. Despite this seemingly heavy tone, humour is rampant throughout the work with some pieces beginning life as a simple spoken sentence, in one case 'frogs are female toads', before multiple repetition sees them morph sounds and gestures. The work strikes parity between the diverse avenues and discourses successfully, and the switch from live performance to wall projection sees none of work's impact lose its allure. If anything the transfer of wool from malleable stage set to sculptural piece echoes the dual existence the artist herself balances, and if the wool is our gauge point, it is done with assuredness and resilience. The narrative of striking balance between multiple ideologies and pathways in life knits this exhibition together wonderfully with the result being both humour inducing and thought provoking.
Full details on the show are available here.
***
Originally published on The Thin Air as part of the Picture This series.
Full article here.