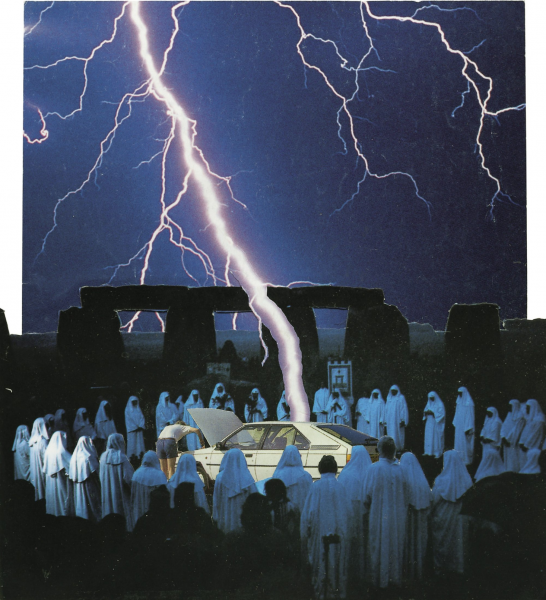 The Otherworld Hall January 3, 2018 Solstice Arts Centre, Navan, 27 October – 22 December 2017
Aoibheann Greenan, Seán Hillen, Sean Lynch, Lucy McKenna
Tadhg McSweeney, Doireann Ní Ghrioghair, Nano Reid.
The term 'urban legends' may trace its lineage back to the 1960s, but as a cultural phenomenon, the term has existed for millennia under the guise of folklore and mythology. The internet's emergence has proved a double-edge sword for modern mythical incarnations, offering both the platform to spread the tale and the means to debunk it. Originally, folklore provided tales of humour or warning, and, as such, disproving them was generally not a priority. These stories often contained grains of truth – elements that rooted them in reality – before they were embellished into more thrillingversions. In recent decades, greater archaeological understanding of the Brú na Bóinne complex in County Meath has shown that this process also extends to ancient mythologies. We still cannot fully substantiate or corroborate these mythologies. This threshold between truth and myth serves as the departure point for 'The Otherworld Hall', recently presented at Navan's Solstice Arts Centre.
Seven artists were chosen by curator-in-residence, Sabina Mac Mahon, to articulate this concept. The exhibition is underpinned by Mac Mahon's reference to Nano Reid's painting, Where Oengus Óg Magnicently Dwells (1963). Sadly, this piece is absent, but two of Reid's later works are included instead, invoking the gallery's surrounding landscape with their muddy rural palettes and runic paraphernalia. However, while they don't appear to sit uncomfortably with the surrounding work, they, at times, fail to interject with the contemporary pieces. Instead, they occupy a space between the dialogue created by other works – echoing the Tuatha Dé Danann, who built sites such as Newgrange only to depart to the otherworld, leaving the living to inhabit Ireland.
The work from each artist has been dispersed across three rooms, creating a nonlinear narrative that encourages viewers to engage with pieces in their own order. This curatorial approach helps to gel the disparate mediums and practices, which play off each other; topics raised within one work can be continued by another. On entering the exhibition, we encounter a sculptural fragment by Aoibheann Greenan. Removed from its parent piece, it is recast as an alternative narrative, highlighting the blurring of fact and ction within ancient mythology – a concept that ows through the exhibition as a whole. Greenan's work, The Eighth Seal (2017), investigates the signicance of Sheela na Gigs – gurative carvings of naked women displaying exaggerated vulvas. The dramatic transformation of truth into mythology is palpable here, referenced by Greenan in relation to the ongoing socio-political debate surrounding the Eighth Amendment.
Alongside his mixed-media sculptures and paintings, Tadhg McSweeney presents a video piece. A trio of monitors are stacked beside a motion-activated turntable. Instead of a needle, a small camera; instead of a record, a pamphlet. Once activated, all focus shifts to the screens which display an enlarged and hypnotic symbol, evoking the nearby Neolithic monument, Newgrange. As the symbol rotates, its source disappears from consciousness. The interpretation of symbolism is further explored in the work of Lucy McKenna. Her installation, A Soft Whistling, features acrylic and vinyl sheets that cast symbols and patterns at different angles and colours. A visual language is constructed, reminding us that our interpretations of symbolism within archaeological sites are often highly subjective.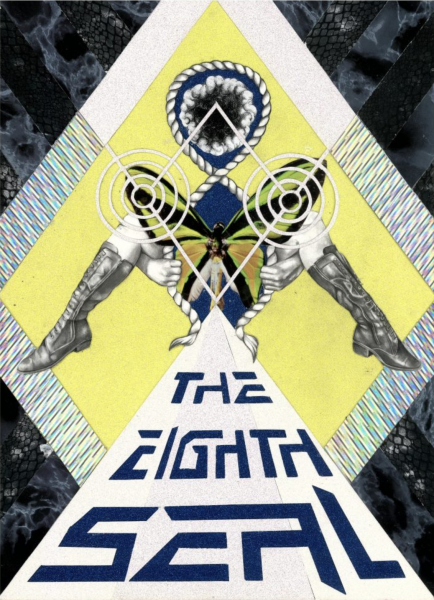 Aoibheann Greenan, The Eighth Seal, 2017, mixed media on paper, 40 x 29.5 cm.
Doireann Ní Ghrioghair's recent sculptural work is achieved through taking plaster casts of parts of public buildings. Allowed to dry unsupported, these casts subside in on themselves, echoing the collapse and impermanence of past civilisations. Ní Ghrioghair has included pigments in these casts, reminding us that many buildings and statues from antiquity were once colourfully nished, their modern blanched veneer now denoting loss and absence. The recasting of visual metaphors is also evident in the work of Seán Hillen, who takes a multi-layered approach. Hillen presents work from his collage series, 'IRELANTIS' (1994 – 2005), in two different formats: some are facsimile reproductions, while others are archival copies of the originals. Hillen seeks to create new mythologies from fragments, pulling together divergent sources to corroborate them. History, it seems, can be reproduced in varying formats.
Sean Lynch's video work, Campaign to Change the National Monuments Act (2016), addresses a 1987 amendment which banned the use of metal detectors to discover historical objects. In ancient societies, the discovery of an artefact was often greeted with fear, to the extent that the object was reburied with an offering, in a gesture to appease the gods. Nowadays, such offerings are kept by the nders. In order to protect itself from legal challenges, the state has opted to seal the ground to opportunists. This curtails the discovery of new artefacts and future evidence to support existing theories. Whilst this approach cannot be sustained, it does at least encourage us to reconsider the history we already have – something explored at length by the artists in 'The Otherworld Hall'.
Aidan Kelly Murphy is a writer and photographer based in Dublin, and Arts Editor for The Thin Air.
Main Image: Seán Hillen, Trouble with the Spaceship, Co. Meath, 1994, collage, 19.5 x 26 cm.
***
Originally published in VAI Ireland Newssheet Jan/Feb 2018
Online article here.