The Holdouts
Record sales in Ireland are at the highest they've been for more than a decade. The mass closure of shops at the turn of the millennium has ceased. The city has now been left with a core of shops, most of which do more than sell records. Be it the basement of a retro-games emporium or tucked inside a bookshop, the diversity of these spaces has helped them survive and thrive in the middle of an analogue revival.
Ironically it's the internet that has played a pivotal role in the resurgence of the record. As well as providing a digital marketplace, with the likes of Discogs and eBay, its ability to form a communal memory has fueled the sense of nostalgia for retro items.
This, coupled with the desire to obtain something more tangible than an MP3 download and more physical than a Spotify playlist, has led to an increase in both vinyl production and retail sales.
This increase has been fueled by two demographics: people returning to the format of their youth and picking up records they originally purchased decades ago, and those hoping to differentiate themselves from the more passive music consumer by purchasing a record. As well as desirable objects, records have become statements of intent for many people.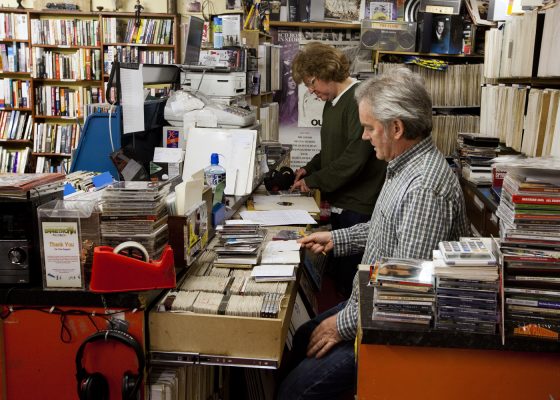 Never is this consumerist medley clearer than on Record Store Day; an annual April event where a diverse range of musicians come together under one common theme: vinyl. A day that sees behemoths from previous musical generations re-release obscure records at inflated prices, alongside up-and-coming bands who've pressed 250 copies of their latest single. As one shop owner put it, "for any style of shop to have a day where the whole world is talking about this minority pursuit is incredible."
Walk up Wicklow Street and you would be forgiven for missing the inconspicuous doorway that leads to one of Dublin's best and worst kept secrets. Head through the doorway, down the narrow corridor papered with posters for local gigs, into the bookshop, and at the very back, you've found Freebird Records.
Since it opened nearly forty years ago, the store has moved location several times before ending up in the aptly named Secret Book and Record Store. "You'd be amazed at the number of Dubliners who don't even know we're here," says Brian Foley, the man who originally opened the shop on Grafton Street in 1978. While some natives might have difficulty locating the shop, famous musicians do not. Former Led Zeppelin front man Robert Plant was in through the front door last November and Outkast's Andre 3000 has been spotted there twice in the past year.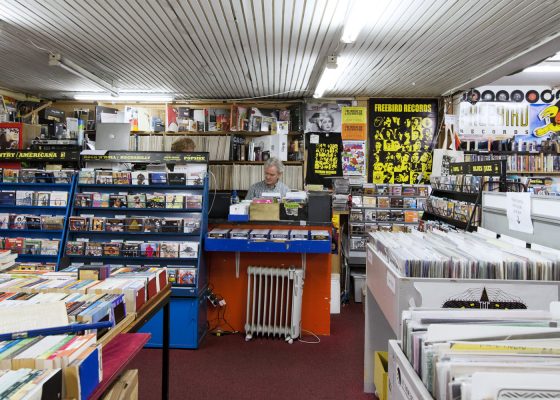 The past few years have seen a resurgence in record sales for the store. Whereas vinyl dropped off to as low as a quarter of the shop's sales, it now accounts for close to two-thirds. Brian notes that a lot of people who sold off their collections in the 1980s are now reverting back to the format. He also recognises the part Record Store Day has played in the rejuvenation, "It's very good publicity and also it's a very enjoyable day. We see people we would never see throughout the year."
So how have they survived when so many of their contemporaries have closed down? Brian and Philip (who has worked there for 14 years) both attribute their longevity to the vibe of the shop. "There's a good atmosphere; people can be here for an hour or two and on the way out bump into someone they haven't seen in years. There's a social aspect to the place, where people can stay and browse books down there," says Philip as he nods towards the shelves and table tops filled with books that make up the literary half of the Secret Book and Record Store.
The back-story of 16B Fade Street centres on two now defunct record shops: Road Records and Trout Records. The former, an iconic record shop championed by local musicians, the latter, a stall within the George's Street Arcade with big ideas. After eleven years in business, Road Records closed in late 2010 and Trout Records owner Nick Di Maio, keen to expand and diversify the shop's output, moved in. The Trout moniker was discarded and in its place stood The Record, Art and Game Emporium, R.A.G.E. for short.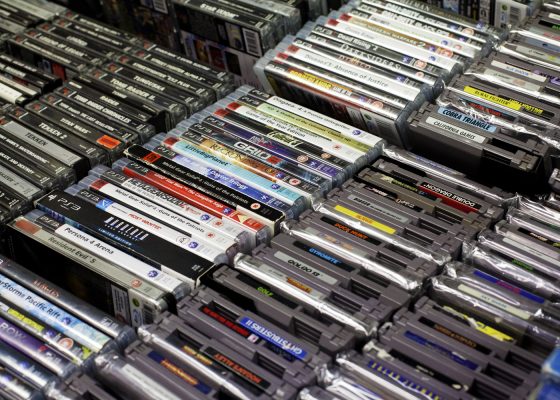 While the space is synonymous in Dublin with Super Nintendos and N64s, the shop has always had a record section. The store's presence as an outlet for vinyl has increased over the past few years. Late 2013 saw a complete refit of the shop's basement, incorporating a listening booth for customers.
The shop also has an impressive employee alumni list. Members of local bands Spies, Girl Band and Jet Setter – all of whom have received both national and international recognition – have served their time behind the counter. Manager Dennis, himself a DJ, says that there was an encouragement of artistic endeavours, and points to the 'A' in The R.A.G.E.'s acronym, highlighting its importance along with vinyl and retro gaming sales.
The space itself is an extension of the staff's listening, "Myself and Nick are really into hip-hop and beat making and we try to make the place a destination for crate diggers who can come and find samples. I curate the space consciously towards that." The shop houses a treasure trove of diverse second-hand vinyl from all genres, with everything from electro to funk to jazz in stock.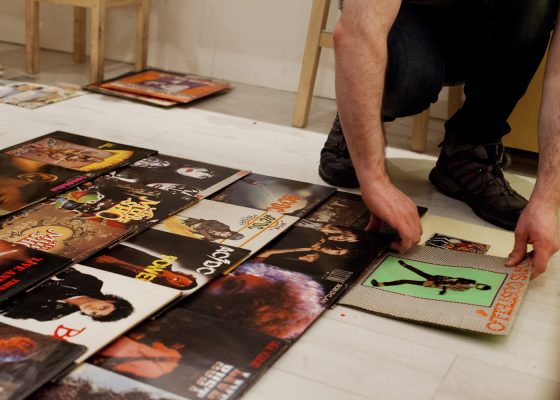 2013's refurbishment came on the back of increased vinyl sales and Dennis notes two increased markets. One is an older customer re-purchasing vinyl they originally owned in their youth. The other is a younger crowd veering away from digital downloads looking for something more palpable to interact with. "You've a piece of art in your hands. People appreciate that a lot more these days."
"My dad's an accountant and when he saw the business model he said it was actually impossible," jokes Olan O'Brien of All City, 14 years into the shop's existence. Opening in a pre-internet Ireland, Olan says he knew even back then the writing was on the wall for vinyl and vinyl shops. At its core it's the same now as it was then: records and spray-paint; but at the same time All City was never just a record shop. Scratch below the surface and it becomes apparent that 4 Crow Street, Temple Bar, is a place where like-minded people congregate over a shared love of hip-hop culture.
The space houses the All City Record label as well as the vinyl and graffiti supplies. Started shortly after the shop opened, the label has already released more than seventy records. As well as the day-to-day business of a label and shop, All City is synonymous with its annual All City Jam in the Tivoli. The day can see more than a thousand people gather over a mutual love of graffiti and street culture.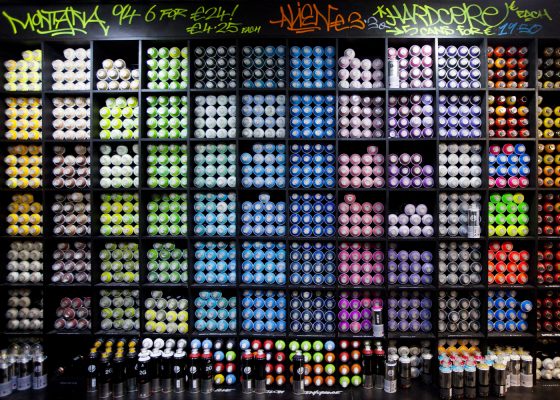 It becomes quite apparent from speaking to Olan that in his view 'the kids' are both the future of the shop and of Ireland. He is passionate in ensuring that All City do it's upmost to recognise their worth. "You hit a ceiling pretty quickly in your twenties in Ireland, and if you're doing something a little different you're like 'shit, I can't make a living being a photographer here, I can't make a living being a graffiti writer here.' So they often leave and a huge amount of energy leaves the country with them. It's tragic, probably the biggest tragedy this country has. The Jam helps put a bit of worth on what the kids do."
On the subject of the boom in record sales, Olan is less romantic and more pragmatic, "Are record sales on the up? Definitely. Will they continue forever? Who knows, you can't predict the future. Bubbles always burst. This bubble will burst but how bad will it be after I just don't know, it's hard to say."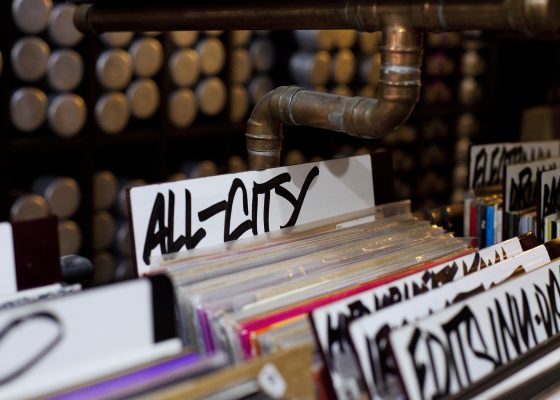 In the meantime all we can do is enjoy the renaissance that vinyl is having and treasure these spaces while they exist in their current forms. As we talk, a trio of kids in school uniforms bundle out of the shop with a can of spray-paint. After a small tug-of-war between the tallest of the boys and the solitary girl, she hastily shoves it into her bag. Delighted with their prize, they head off down towards Temple Bar. In their place a middle-aged woman walks in – diversity clearly is the key to success.
Originally Published in the 4th edition of We Are Dublin – Summer 2016
Featured on The Locals – Autumn 2016