In this installment of DIY Dublin we pop into Tropical Popical, a vibrant nail salon on South William street in the city centre, positively oozing with colour and kitchiness. Aidan Kelly Murphy chats to Andrea Horan about setting up the salon with her sister Michelle and the rise of creative nail art. (Photos by Abi Denniston.)
How did the idea of opening a nail salon in Dublin come about?
These ideas always come from a selfish need or requirement I think, especially when it's not just a 'Get Rich Quick' idea. Myself and my sister were bopping around the States when we were travelling and we were starting to get sick of talking to just each other so we started a nail habit to keep us busy. We were getting our nails done every 3 days or so and we wanted to create something similar at home that was cheap and cheerful so you could make getting your nails done a habit rather than a treat. And so Tropical Popical was born.

Where did the name Tropical Popical come from?
I wish there was a good story but em, there isn't. We were in Vegas and Tulum so I knew it was going to be the two best types of tropical – the tacky and glitzy Vegas side and then the actual tropical a la Tulum in Mexico. And then Popical just had a gorge onomatopoeic and musical sound – basically it rhymed!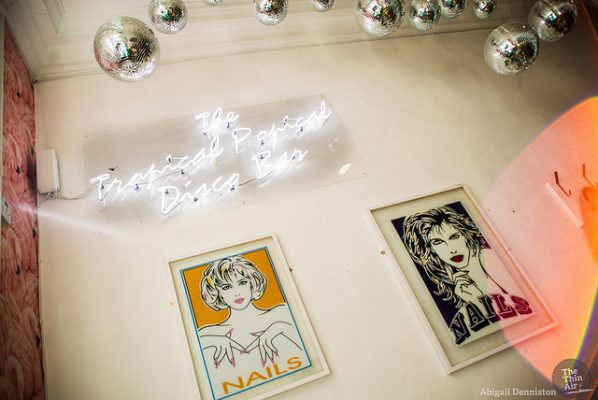 How soon after you and Michelle had settled on opening a salon did the concept and theme for Tropical Popical come about? Or was this an idea or style that you always had in the back of your mind?
I've always been a huge fan of anything bright and tacky – I always see the word tacky as a positive – so I knew from the outset that it was going to have all those factors in it. The concept kind of evolved and I was lucky because it was all happening when we were sitting on the beach in Tulum, tapping away on my laptop with no distractions and loads of time for things to develop in my mind. I just wrote lists of things I loved and kitsch ideas of things we could have in there. Not all of them made the cut – if we open anywhere else I'll defo be going back to that list! I always wanted it to be more than a nail bar – I wanted it to be a social place, I wanted to build a brand that could be brought in different directions. To have something that was strong enough to expand on. I've no interest in owning a chain of nail bars. I love the essence and personality of TropPop too much to dilute it just to make money. I'd prefer to stay true to its ethos of what it started out to be and capitalize on what makes sense for it.
What's it like working and operating a small business with your sister? Many fights?!
Less than if we weren't related. With sisters, you can be ready to punch each other in the face but you can just call each other out on it rather than have to try and be diplomatic. We have regular sister tiffs on a daily basis. Michelle hates when I come in to Trop when she's working as I faff about and she's trying to keep it business. I'll be in wanting to take pics for Instagram or have someone in doing a Snapchat thing to try and hire staff and she'll be grrr-ing all over the place and telling me to get out as they've nails to do. Fair enough I suppose! So in that sense, we work really good together as we're totally opposite!
This November will see Tropical Popical turn four. How much has Dublin and Dubliners approach to nails changed in that time?
Well, they defo care way more than when we opened. Since then, other places have opened more salons and all of them are always booked out and it's impossible to get appointments so having your nails done has definitely become more of a habit. YES!! We were lucky that we opened at a time when money was tight and people could afford to treat themselves to a €20 manicure. With our clients we've definitely found that they're getting braver with what's going on their nails and thinking about their next look before they come in to us. It's good to see it become so much of a thing. I love that getting your nails done is so democratic. You can be any size, tribe, social status; any type of person and everyone can come in and feel great after having their nails done.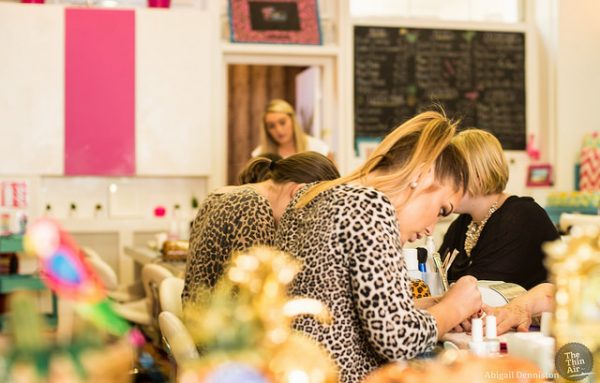 As well as kick-ass nails you've been making a name for yourself in nail art with works inspired by the works of Van Gough, Jeff Koons and many more. Was this something that evolved naturally overtime or was there more of a eureka moment?
I feel really passionately about encouraging and pushing the girls to be the best that they can be. So, as we started uploading pics of nail art we'd done, people started to ask for more specialized pieces on their nails. And then, for the week after it went up, everyone would want that on their nails so we consciously made a decision to create content that would inspire our clients, push the girls outside of their comfort zone and hence Creative Wednesday was born. I'd pick an artist and the girls would research them and come back and do their interpretation of their work on nails. It's fun and keeps things fresh and exciting and gives our clients more ideas of what to get.
Has anyone come in with an artist you thought was too sacred or difficult to complete?
We'll always try our best. If someone's not comfortable with a piece they'll ask someone else to do it. It's a really supportive atmosphere.
What's been the weirdest thing someone's ask you guys to create?
Someone was in college and wanted their final project on their nails which was a goat embryo. Jessie did it and it actually turned out really nice!
Do you have an plans to expand it or diversify it into other areas?
There's always something brewing somewhere that we want to do. We have a whiteboard in the office and everything goes up there no matter how radical an idea it is and we tackle them one by one and see if they're something we can do. We have stuff like Tropical Dreams which is the hotel, we want to get a bigger TropPop and have a bigger team; Tropical polishes, Tropical Chats, a Tropical Book etc etc. Currently we're working on Tropical Hype which is our comms piece we do for other small businesses and The HunReal Issues that launches soon which is an idea to politically mobilise the army of fab huns in Ireland who at the moment aren't very interested in womens issues. Imagine their collective power when they're consciously turned on!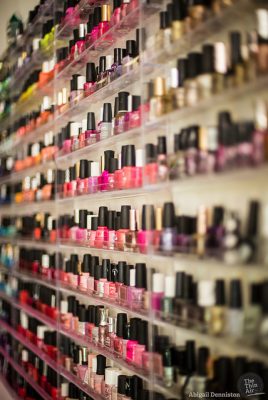 So you have just launched Tropical Hype. How did that come about and what are the aims?
Tropical Hype kind of just happened. I was doing PR nixers for small businesses and I figured when I was doing enough of it I should probably make a website (nothing exists in my mind till there's a website!). After a while I realized I like having the vision but not actually doing the work (ha) and that because we only want to work with small, local, independent businesses it's hard for them to find an ongoing monthly fee so we changed it to be more of a strategic consultancy with a comms class built in. So we train small businesses to create ongoing hype without the ongoing fees!
How did the concept of the TropPop High School come about?
It was mainly because we were having such a hard time finding staff that were good enough. We figured if we're going to get staff, we're going to have to train them ourselves. Niamh took the mantle on this one and now heads it up. She went off and did all the teacher training etc and then when she was set, we opened it up. We've hired loads of staff through it!
How much of a kick do you guys get out of seeing people skill themselves in an area you love and help them on the way to that?
That's pure joy for me! I'm not in this to make billions (luckily!) but to have a platform to create joy each day for myself, my staff and any of our clients in any of our businesses. That's all well and good but it's meant that some staff who didn't want to push themselves found it all too much as I'm always on everyone's case to be better and try more. So people who work for us are always hungry to grow and for more.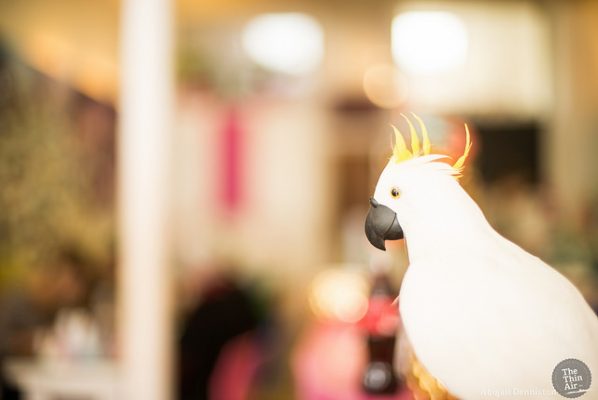 As well as being excellent at mani-pedis you have a wonderful set of social media accounts that engage with your customers and scream fun. How key was that to your growth and continued success?
Because we've only got one small shop, there's only a certain number of people who can come through the doors at any one time so social media allows us to spread the tropical vibes far and wide. They're such a good way of sharing your personality and projecting and cementing the personality of the brand. For instance, when we first opened and we hadn't really built up our personality very much online, someone left a review giving out that what appeared to be the manager (me) was roaring laughing on the phone when she was in having her nails done and she was raging. I think now because of our social media you'd know to expect some ruaille buaille when you come in.
Speaking of promotion, Saoirse Ronan eh! How long have you guys been doing her nails, and how much of a boost did you feel in the aftermath of the Ellen Show and awards season?
She's been coming in to us whenever she's in Dublin for about a year, Chloe always looks after her. She's a lil dream. We definitely felt the tremors of excitement in the aftermath – we're still feeling it tbh. I'd say collectively we've said Saoirse in there more times than Tropical…. And that's a lot!
What does the future hold for Tropical Popical?
Goodness…. Who knows? I'm very much a live in the present type of person. Obviously I like to have a plan for the future but I like things and projects to evolve depending on the needs of the brand (like the TropPopHighSchool for example) as well as having your eyes on the prize. But you never know what opportunities are around the corner so we'll keep bopping along with our whiteboard and see what happens.
If you could give one piece of advice to anyone thinking of opening a small independent business in Dublin what would it be?
Find your niche and vibe and stick to it. Don't try and be all things to all people – the big chains are nailing that mediocre mass appeal. Be special.
You can find out more info on Tropical Popical here.