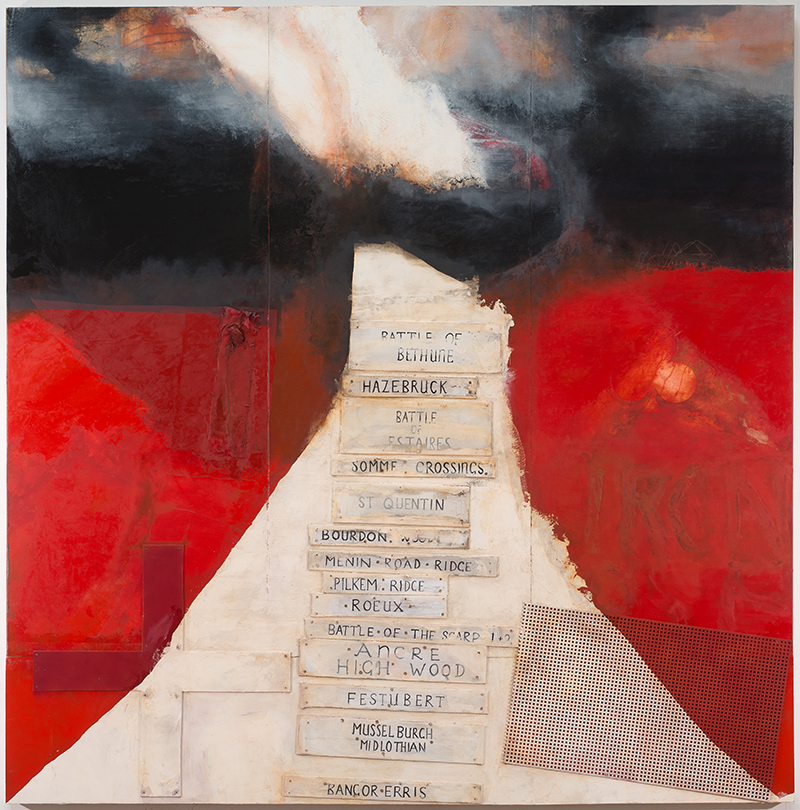 What: The Red Earth
Where: VISUAL Carlow
When: 1st November to 29th January
Reflections on the past, in both a familial sense and in a broader cultural and societal impact, forms the core motifs for the latest exhibition in VISUAL Carlow. The show is entitled The Red Earth and features the work of acclaimed British-born, Irish-based painter Hughie O'Donoghue – who on a wonderful tangent designed a set of stain glass windows for The Henry VII Lady Chapel in Westminster Abbey three years ago. O'Donoghue's ancestry provides the departure point for his work with the lives and personal experiences of his father and grandfather during both World Wars intertwined with the emotion and awareness experienced by the artist himself following extensive research into their movements and actions – O'Donoghue's grandfather served in the trenches during World War I, while conscription saw his father follow suit a few decades later for World War II. The result sees lush and large scale paintings that provide a tender but stark response to the impact of war. The artist's grandfather was a railway worker prior to the outbreak of the war and this locomotive connection is expanded on further in the show's centrepiece – A Distant Thunder. In this we see a reconstruction of a railway carriage used during battles such as the Somme and Ypres for the transportation of men's bodies from the front and no man's land, this piece will be activated by a gallery performance at 3pm every day for the duration of the exhibition's run. The role of Irish towns during The Great War is often forgotten, Carlow itself provided boots for the British Army as well as Armoured Cars. In the decades that followed independence this intrinsic link we provided to the Empire became lost to the annuals of history books when, as a nation, we forged ahead with our own historical rhetoric. This combined and crucial history is reflected in The Red Earth, along with that of O'Donoghue and his family to produce an engaging and emotional exhibition.
Full details on the show are available here
***
Originally published on The Thin Air as part of the Picture This series.
Full article here.