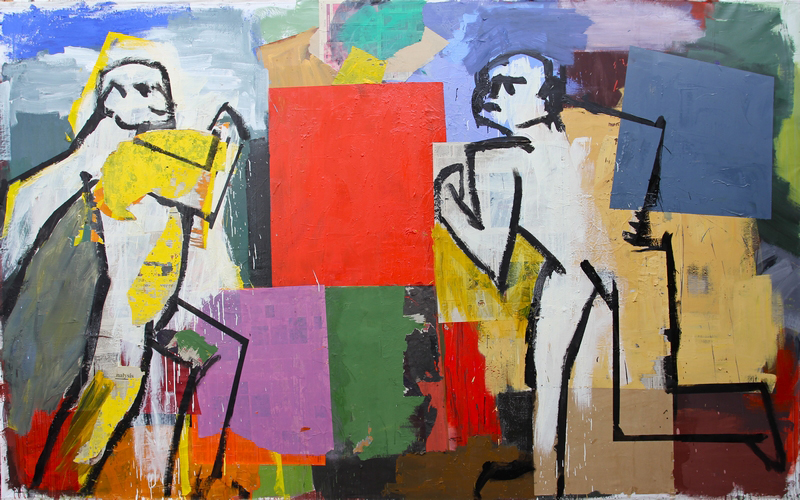 What: Modality of the Visible
Where: Dublin City Gallery, The Hugh Lane
When: 20th October to 15th January
'Ineluctable modality of the visible' – 'thought through my eyes': It is these words, spoken by James Joyce's alter ego Stephen Dedalus in Ulysses, that provides the title for painter Michael Kane's latest show in Dublin City Gallery, The Hugh Lane. Dublin was Joyce's canvas for his modernist novel and his character Dedalus is named in homage to Greek mythology's Daedalus – father to the ill-fated Icarus and builder of the Minotaur's labyrinth. As with Joyce, Dublin has provided a key inspiration and setting for Kane's output for the last five decades, in Modality of the Visible we see the fruits of this fixation with works from a broad range of Kane's back catalogue along with various new pieces of contrasting size. The bulk of pieces on display are either from the 1970's, using a linocut technique that borders on caricature like portraits of individuals and individual moments in their lives, or paintings from the last few years. These newer works contrast those earlier pieces as we see elements of dadaism and cubism through their rich block colours and elements of collage and montage work. We see newspapers peep through in sections, with cardboard and the remnants of flyers attached to others – the work takes on sculptural qualities albeit in 2D form. Also included in the show is Kane's 1984 Agamemnon Felled woodcut series which accentuates the dramatic nature of the city's life, while also echoing the mythological properties suggested in the show's title. Kane's newer pieces are more free form in style and as a result become less observational, in an individualistic sense, which helps the work establish itself in a more collective emotion. We see Joggers who cut contrasting figures across a sea of colour, outlines of bikes resting on the edges of canvases as well as other signifiers of life from the urban landscape of a city. Some individual pieces Kane created in the 1950's are also on display, including the wonderful oil on paper piece entitled Political Speech (Chief Executive). As a whole Modality of the Visible reflects an artist continuing to engage with the Dublin city, finding new avenues for her discourse and new enchanting ways to tell her story.
Full details on the show are available here.
***
Originally published on The Thin Air as part of the Picture This series.
Full article here.