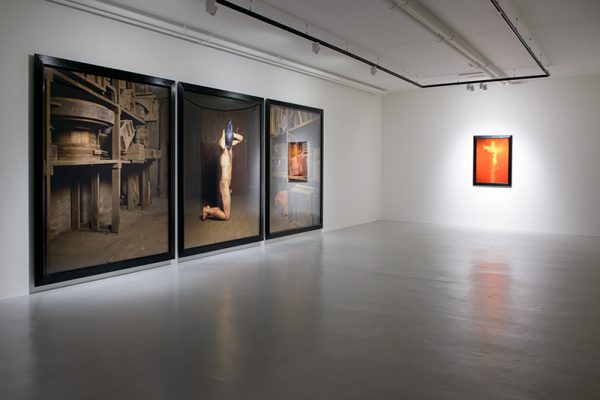 What: Torture
Where: Void Derry
When: 8th October to 17th December
The work of American photographer Andres Serrano has been known to generate vastly polar responses. Many rightly recognise him as an artist pushing the boundaries of photographic art while others take umbridge with both his choice of materials and his subject matter. In 2007 his work was vandalised in Sweden by neo-Nazi groups, in a twist of irony the group who did so posted a video online featuring them carrying out the act while listening to heavy metal music – Serrano has provided the album art to not one but two Metallica albums. Four years later and 1,000 people took to the streets of Avignon in France to protest his work, with two pieces being vandalised in a gallery the next day. The reason for such venom from a minority of detractors is the reason many others respect and enjoy Serrano's work – his unflinching constitution when it comes to tackling difficult subject matter. Serrano's work often, but not always, depicts Christian topics with his most famous/infamous piece being his 1987 Piss Christ, which features a plastic crucifix submerged in a tank of the artist's own urine. This work, is presented alongside a much larger body of work entitled Torture in Void Derry. The genesis of his new series can be traced back to over a decade ago when Serrano was commissioned to produce a series of images for the New York Times on the subject of torture. He has now returned to this subject matter, photographing genuine historical torture devices as well as staging scenes of people interacting with these and other less historically accurate machines. The result is a chilling yet beautiful crafted set of imagery, displayed here in large format in Void – using darkroom rather than digital printing methods with many of the works have been split into triptych arrangements. Serrano has always presented imagery that straddles ambivalence and ambiguity, detaching himself from the moral compass of the worlds and people he documents. This approach pushes the critique of his subject matter onto the viewer, enhancing their awareness of the topic and furthering the dialogue his pieces spark. Tortureruns until mid-December and is presented in partnership with a/political.
Full details on the show are available here.
***
Originally published on The Thin Air as part of the Picture This series.
Full article here.